1986 was a great year in Formula 1's history. As a breakthrough of F1 media campaign, Hungary is to organise the first Grand Prix race behind the iron curtain. Not the first GP in the country, though...
1936. Hungary's straight headed to WWII. After a horrific loss of territory and dignity in WWI, Hungary is making alliances with Nazi Germany and fascist Italy in seek for revenge. Zeppelins cruise in the skies, the propaganda is getting stronger and stronger.
As a part of this propaganda, a Grand Prix race is getting organised for the people to see all the legendary racing drivers of the time and their cars. On June 21st, the audience is to witness the battle between such racers as
Bernd Royemeser
,
Tazio Nuvolari
, and even the Romanian
Petre Cristea
is allegedly among the entrants with the same specially built and tuned Ford V8 with which he participated on the Monte Carlo Rally earlier.
The circuit is set in Népliget ('people's park').
Beautiful backdrops, spectacular city at the time and bad advertisement (the church on the image below is in Szeged, not Budapest -
photo from imageshack
).
In the previous year the cars from Mercedes-Benz dominated the Grand Prix scene and captured nine of the eleven major events they entered. These victories included the Monaco, French, Belgian and Swiss Grands Prix and resulted in the crowning of the original regenmeister (rainmaster), Rudolf Caracciola as European Champion. Of their losses last year, none was more painful than Tazio Nuvolari's legendary victory in the German Grand Prix driving a Scuderia Ferrari entered Alfa Romeo.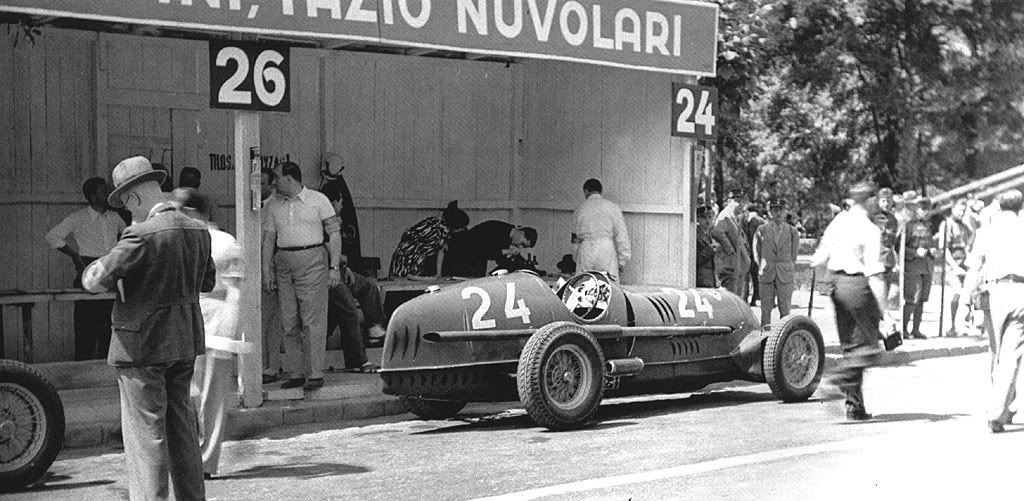 The starting grid looked so:
12
Stuck
Auto Union
2m39.83s
16
Rosemeyer
Auto Union
2m38.15s
24
Nuvolari
Alfa Romeo
2m40.08s
22
Brauchitsch
Mercedes-Benz
2m39.87s
14
Varzi
Auto Union
2m43.12s
18
Caracciola
Mercedes-Benz
2m40.38s
20
Chiron
Mercedes-Benz
2m49.65s
28
Tadini
Alfa Romeo
2m47.52s
10
L Hartmann
Maserati
3m10.56s
4
A Dobson
Alfa Romeo
2m53.21s
6
Martin
Alfa Romeo
3m02.51s
The flag dropped and Rosemeyer surged into the lead, followed by von Brauchitsch, Caracciola and Nuvolari. Caracciola then stole the lead and held it for the next 16 laps before he was forced to retire with engine failure.
While von Brauchitsch and Nuvolari were involved in a war of nerves Rosemeyer who had started behind the leading pack assumed the lead. Von Brauchitsch never the calmest driver in the field began to wilt under the pressure exerted by the Italian. Coming into a corner too fast only to spin out, von Brauchitsch was narrowly missed by the Alfa Romeo. It was now just after half distance and Nuvolari had his eyes set on the race leader Rosemeyer. Each earlier call for his retirement would now serve to fuel Nuvolari's efforts. Slowly he reeled in his young rival and on the 33rd lap Nuvolari made his move and passed the Auto Union for the lead. Nuvolari continued to extend his lead until the end thereby avenging his defeat of one week ago. Von Brauchitsch, the last Mercedes still in the race spun again two laps from the finish and suffered terminal damage to his car. Alfred Neubauer, the Mercedes team manager flung down his control flags in disgust.
Finishing results:
1.

24

Tazio Nuvolari

Scuderia Ferrari

Alfa Romeo

8C-35

3.8

S-8

50

2h14m03.5s =
2.

16

Bernd Rosemeyer

Auto Union AG

Auto Union

C

6.0

V-16

50

+ 14.2
3.

14

Achille Varzi

Auto Union AG

Auto Union

C

6.0

V-16

48
4.

28

Mario Tadini

Scuderia Ferrari

Alfa Romeo

8C-35

3.8

S-8

47
5.

12

H. Stuck / /E. von Delius

Auto Union AG

Auto Union

C

6.0

V-16

46
6.

4

Austin Dobson

A. Dobson

Alfa Romeo

Tipo B/P3

3.2

S-8

45
7.

10

László Hartmann

L. Hartmann

Maserati

8CM

3.0

S-8

44
DNF

22

Manfred von Brauchitsch

Daimler-Benz AG

Mercedes-Benz

W25K

4.7

S-8

40

crash
DNF

6

Charles Martin

C. Martin

Alfa Romeo

Tipo B/P3

2.9

S-8

32

rear axle 35 laps?
DNF

18

Rudolf Caracciola

Daimler-Benz AG

Mercedes-Benz

W25K

4.7

S-8

26

engine (crash?)
DNF

20

Louis Chiron

Daimler-Benz AG

Mercedes-Benz

W25K

4.7

S-8

19

engine/supercharger
50 years later a new race was organised under new rules, new circumstances, at a new place. The former track is still available to the public partly in car traffic use, partly as a recreational green area. 2011 sees the 75th anniversary of that legendary race and the 26th Grand Prix of Hungary.